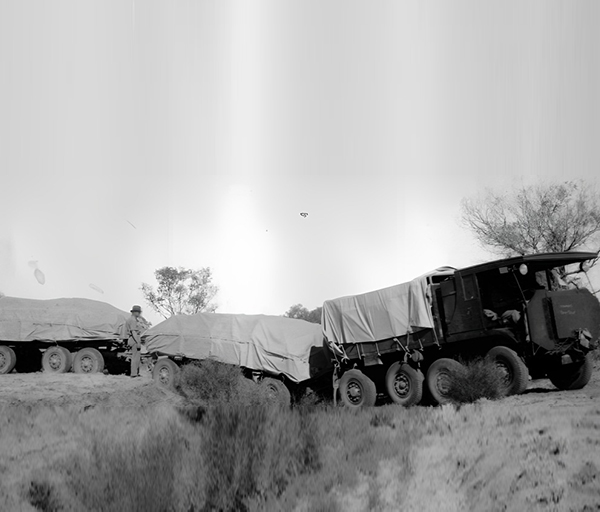 1934 AEC Road Train – Australia's First Road Train
Australia's first road train is going to be on display in Melbourne at the International Truck, Trailer and Equipment Show this year. It's usually on display at the Alice Springs Transport Museum.

Image source: National Road Transport Hall of Fame website
Built in 1934 during a depressed economy still recovering from WW1 and with WW2 imminent, the AEC road train went to Alice Springs to replace the 'Afghan' camel trains.
Changing the face of outback travel, Australia's first road train was one of three eight wheeled vehicles manufactured by the Associated Equipment Company of England.  It was made with a 130hp AEC 6-cylinder diesel truck and connected with 2 Dyson self tracking trailers.
It was built upon receiving instructions from the British Army as the army had designed these units specifically to open up the underdeveloped countries of the Commonwealth.
These road trains can be attributed to the eventual demise of the 'Afghan' camel trains as they were able to establish themselves as a viable and reliable alternative to goods transport within the outback.
See the AEC Government Road Train
Video by Pete Rumball